HOW TO MINIMISE THE RISK OF CHILLBLAINS THIS WINTER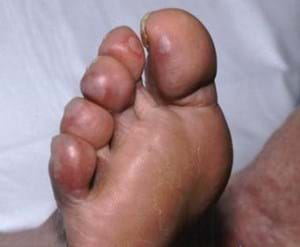 Nothing beats sitting by a warm fire in winter, but Cesar Puertolas, Podiatrist, is urging people to resist the temptation to warm up cold feet by putting them directly in front of the heater or fire.
Painful chilblains are commonly the result of cold feet (or other bodily extremities) being warmed up too quickly. This painful condition is caused by the smaller blood vessels closer to the skin expanding more quickly than larger vessels located close by. Chilblains most commonly occur on toes with symptoms including -
a burning sensation on the skin
red, blue or white swollen patches
intense itching
dry skin, leading to splits and cracks
possible secondary infection
in severe cases ulceration can occur
Elderly and people who lead a sedentary lifestyle are most susceptible to chillblains.
The best way to avoid chilblains is avoid warming up extremities too quickly.
If you do suffer from chilblains, Cesar recommends the following -
Resist the urge to scratch, as this will further damage the skin.
Use a product to soothe the itch. Your chemist can offer advice.
Rubbing in lanolin on to your feet will help retain body heat.
Layered clothing works better in retaining body heat than one bulky item
Wear woollen or cotton socks, which are best in allowing the foot to 'breathe'
Keep your whole body warm.
Remember to exercise to increase blood flow to extremities, even gentle exercise may help
Well fitted footwear will assist ease pain and allow for better circulation around the foot.
Avoid long periods of exposure to cold or damp weather.
Dry feet thoroughly after showering or bathing.
In extreme cases severe cases of chilblains can result in ulceration or regular recurrence. In this case you need to seek professional advice from a Podiatrist who can assist with treatment, management and prevention.
The latest treatment of chilblains includes laser application to reduce inflammation, swelling and ultimately leads to tissue repair, decrease in pain and discomfort and improve circulation on affected skin. Cesar Puertolas now offers laser treatment for his patients.