Ingrown Toenails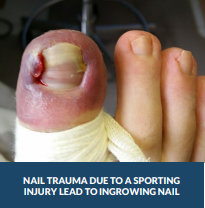 Did you know?
The average person walks up to 128,000 kilometres in their lifetime? This distance is equivalent to three laps around the world!

Podiatrists are the health professionals trained in the diagnosis, treatment and rehabilitation of feet and lower limb conditions.
Ingrown Toe Nails
One of the many conditions a Podiatrist treats is in grown toenails and their complications.
Ingrown toe nails occurs when the edge of the toe nail grows underneath the skin. The most common causes are trauma to the nail, ill-fitting shoes or toe nails that have been cut at an angle or cut too short.

People with diabetes who suffer recurring ingrown toenails are particularly susceptible to further complications and it is important that they are seen regularly by a podiatrist. Athletes who have nail trauma also commonly present with in grown toe nails. An ingrown nail can lead to painful swelling and often infection. If this occurs it can be a very painful experience and left untreated can lead further complications such as infection in the bone.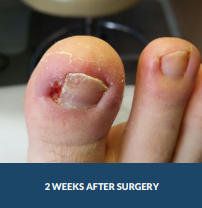 Surgery will be suggested when there is recurring infections. Minor inflammations can generally be treated without surgery by a Podiatrist, however in many instances surgery is required to remove the ingrowing toe nail. A Podiatrist can perform the surgery in their practice under a local anaesthetic.

The procedure usually takes around thirty minutes. Once a patient returns home, the dressing should remain for 48 hours and then removed and antiseptic applied daily. A follow up appointment is required ten days after surgery.